How Funds Are Used
WIRES (NSW Wildlife Information Rescue and Education Service Inc.) began rescuing in 1985 and launched formally as an organisation in March 1986. WIRES is registered with the Australian Charities & Not-for-Profit Commission (ACNC) and all gifts to WIRES $2 and over are tax-deductible within Australia.

Over 35 years of service to wildlife
As Australia's largest wildlife organisation, WIRES has worked hard for over 35 years to optimise our resources as efficiently and effectively as possible for the benefit of our native animals. The scale of our work has grown significantly in this time thanks to the ongoing support of the community, with the vast majority of our income funded by generous donations and bequests . Tens of thousands of animals are assisted by WIRES each year, an extraordinary impact that is made possible by our network of valued WIRES volunteers who rescue and care for Australian wildlife 365 days a year.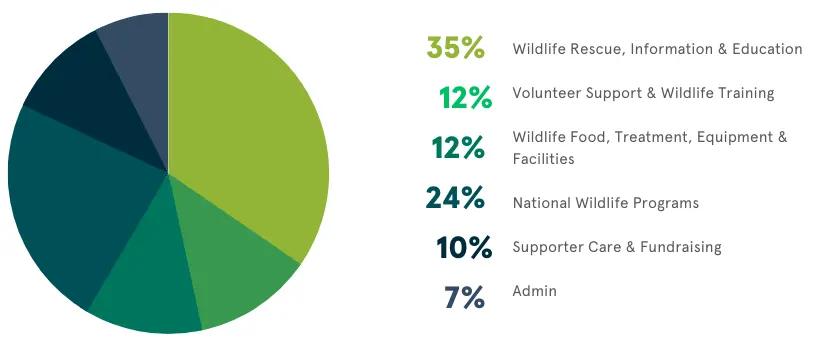 35% Wildlife Rescue, Information and Education
We put our generous donors' dollars to use in real time to provide wildlife rescue services and ongoing wildlife information and education to the community. WIRES receives hundreds of thousands of calls each year for sick, injured and orphaned native animals via our Wildlife Rescue Office (WRO), which operates 365 days a year. The WRO work with WIRES volunteers from 28 branches, WIRES Wildlife Ambulances, and a network of dedicated vets, wildlife rescue organisations and caring community members to assist native animals in distress.
We are dedicated to the rescue, care and release of individual animals and provide ongoing information and education to the community to increase public understanding. This serves to achieve our long-term objective to protect and preserve Australian native species.
24% National Wildlife Programs
Australian wildlife has been devastated by natural disasters in recent years, compounding existing challenges for native animals including habitat loss and disease. WIRES works collaboratively to address these challenges, sharing knowledge and expertise between wildlife rehabilitators, researchers, conservation professionals, citizen scientists, environmental organisations, government agencies and community groups to improve outcomes for our wildlife.
WIRES national wildlife programs are targeted at improving national capacity for wildlife rescue and rehabilitation, wildlife and habitat disaster recovery, and the long-term protection and preservation of wildlife. WIRES offers four grant initiatives that work to achieve these objectives: the National Grants Program, Research Grants Program, Veterinary Vaccination Grants and Emergency Relief Grants.
12% Volunteer Support & Wildlife Training
WIRES relies on its dedicated volunteers who work ardently to rescue, rehabilitate and preserve native animals, helping more animals to live wild, safe and free.
Managing our large volunteer team requires ongoing support for queries including systems access, recruiting and training new volunteers, advanced training for existing volunteers, carefully managing welfare and work, health and safety, and insuring all volunteers for their rescue and care activities. WIRES also continues to expand its wildlife training including upskilling other wildlife rescue organisations across Australia. In the last financial year 2383 people completed a diverse range of wildlife training courses.
12% Wildlife Welfare, Food, Treatment, Equipment & Facilities
In the last financial year WIRES spent $400,000 on wildlife food, providing subsidies for WIRES volunteers to cover approved food items for animals in care. WIRES has also grown two national food programs with Woolworths support that are providing extensive food support for licenced carers and wildlife rescue groups across Australia. While many vets generously provide medication and treatment for wildlife at their own expense, WIRES also provides specialised treatment for wildlife.
WIRES welfare team provides support and training for our Wildlife Rescue Office and branches on relevant legislation, codes of practice and working with external agencies about animal welfare. This team represents WIRES on several ethics and welfare committees and addresses animal welfare concerns by referring to appropriate agencies for action.
WIRES received grant funds to launch the new Community Mange Treatment Program for wombat mange that is now available nationally. This also funded equipment for volunteers in regions rescuing and caring for wombats. Other grant funds received are supplying koala rescue equipment to WIRES volunteers working with koalas across NSW. Grants and community partnerships have also recently supported the development of 3 koala pre-release facilities. WIRES branches receive regular grants to support the purchase of equipment and the development of specialised wildlife facilities. Funds raised locally by WIRES branches are used to support local rescue and care activities.
10% Supporter Care, Partnerships and Fundraising
WIRES relies on donations to help us respond to thousands of sick, injured, orphaned and displaced native animals every year, and to help secure the survival of Australian wildlife for the decades to come. WIRES receives minimal government funding through grants and no funding is guaranteed, which is why we rely on the generosity of the community.
7% Admin, Legal, Finance and IT
There are a lot of management requirements and costs involved in the professional running of any organisation. WIRES works hard to manage our finite resources stringently in order to deliver the best value for animals, our supporters and our volunteers.
We are focused on compliance and manage all resources carefully. WIRES finances are independently audited each year. WIRES are legally responsible to the Office of Liquor, Gaming & Racing, the Australian Charities and Not for Profit Commission and the Register of Environmental Organisations.
WIRES wildlife rescue and care licence is issued by NSW NPWS (National Parks and Wildlife Service Inc.). As Australia's largest wildlife rescue organisation, we are dedicated to continued growth to help more native animals in need, and to the continuous improvement of our systems and processes to increase our sustainability and effectiveness.
Make a donation

Just $20 can help us to rescue and care for more native animals
DONATE NOW